Metal medical cabinet SML 114 – a four-door metal medical cabinet suitable for storing medicines and documents.
A lockable document cabinet will ensure safety of your belongings.
Metal furniture is recommended for pharmacies, medical and treatment facilities.
Two-segment metal medical cabinet. Top segment with tempered glass door and two adjustable glass shelves (every 25 mm). Lower segment with metal door and one adjustable glass shelf (every 25 mm). Cabinets are made of 0.8 mm steel coated with polymer-resistant powder enamel. Lock in the upper unit with a built-in double-sided key lock. Metal filing cabinet is easy to wet clean.
Metal medical cabinet SML 114 has a 5 year warranty.
It is possible to order a medical metal cabinet covered with acid-resistant steel and with castors. Contact our consultants for more information.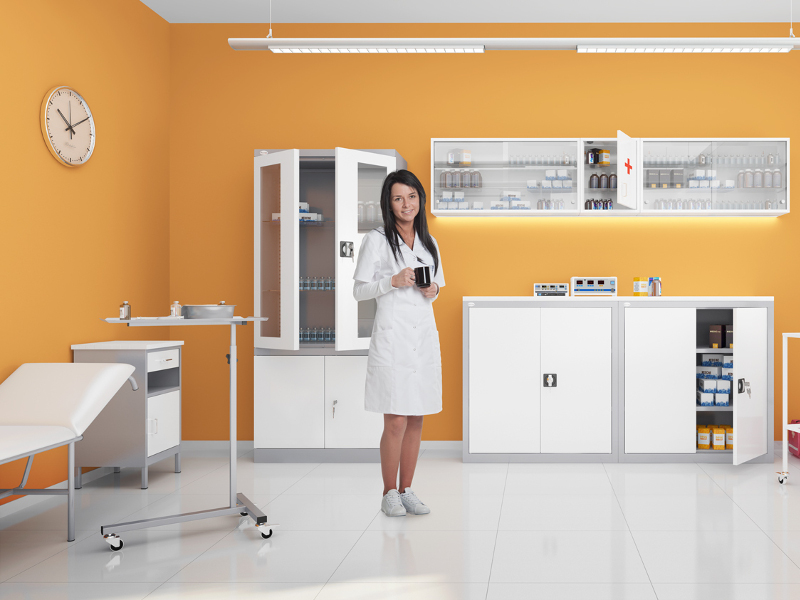 Metal furniture is one of our most popular products. Filing cabinets in various sizes are used in offices, educational and medical institutions, manufacturing and trading companies to store important documents, personal and more valuable items. These metal cabinets are robust, easy to clean and operate. Doors are lockable, ensuring security of the stored items and wide accessibility. If you can't find the filing cabinet you need, please contact Kėdžių centrą, we can offer more metal furniture products.
In many cases, our customers are also interested in better protection of their documents and money, and purchase serviced safes. A metal safe is suitable for storing money, documents and other small precious items. Safe is burglar-proof, secured to the wall of the room. Metal furniture fast online.
You can follow our news on the Facebook ir Instagram accounts.