Closed document cabinet 5H | UNIKA is a product of the new UNIKA office furniture series.
UNIKA document cabinet dimensions (WxDxH) – 1795/1851x442x800 mm – A (feet / plinth).
Standard LST CEN / TR 14073-1: 2004; LST EN 14073-2: 2004; LST EN 14074: 2004
Document cabinet (and back) made of 18 mm MFC board, 0.8 mm ABS edge;
Distance between shelves is 355 mm, height of shelves can be changed in every 32 mm;
Door hinges with soft closing;
Cabinet doors are locked with a key lock, set of 2 keys supplied;
Cabinet has adjustable feet (±10 mm) for levelling on uneven floors.
Cabinet base optional:    
MFC plate base, height 70 mm, made of 18 mm MFC plate, edge 0.8 mm ABS;
Plastic black feet, height 17 mm.
Partly closed document cabinet handles come in different colors (mounted vertically):
G (metallic color);
I (white color);
Y (black color).

Color of cabinet is of choice - white, light oak. Regardless of the color of cabinet body, you can choose the color of doors and handles.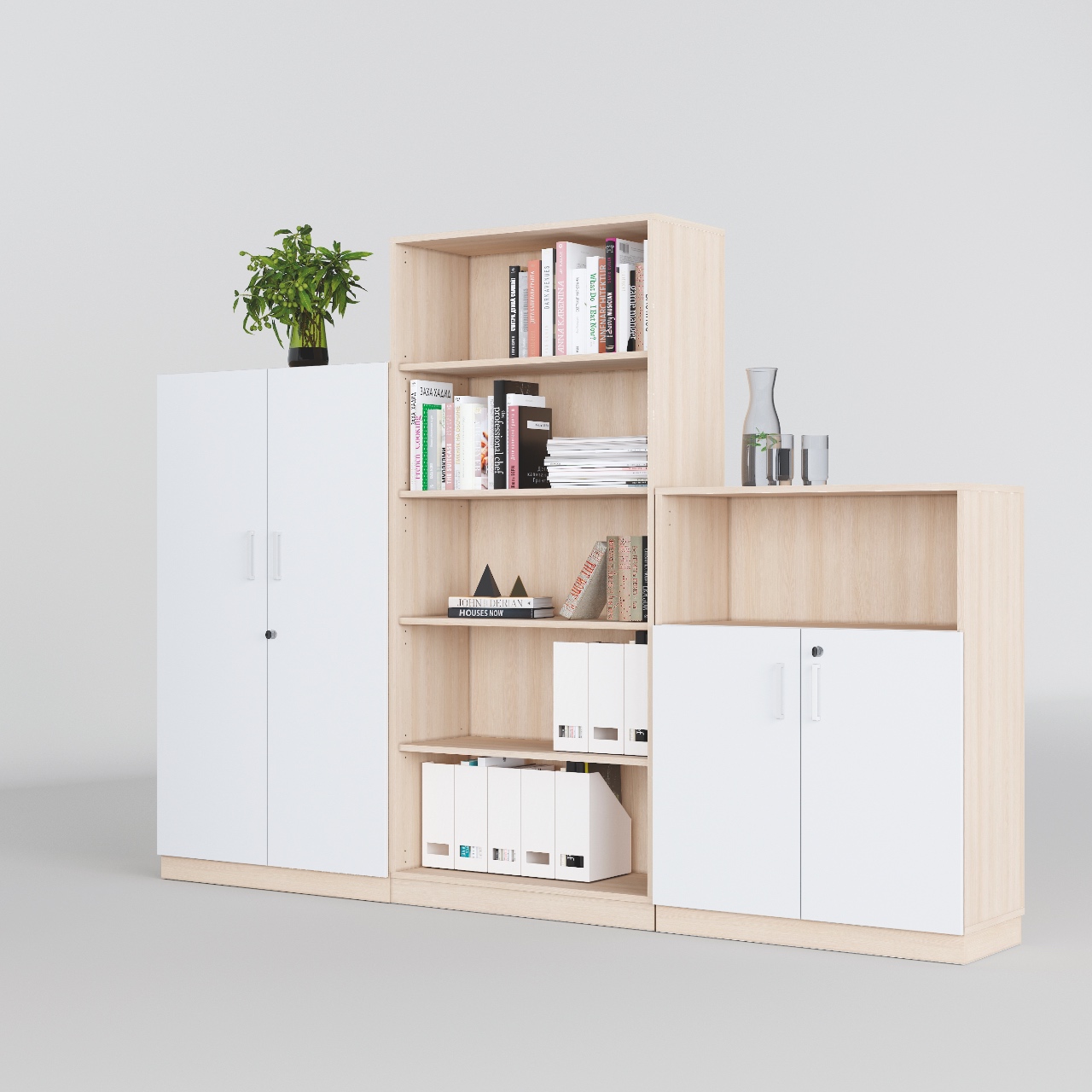 Closed document cabinet is wet cleaned, delivered unassembled. UNIKA office furniture has a 3-year warranty.
Please note! For office cabinets with a height of above 3H, we recommend that they are wall-mounted according to safety requirements (fittings are included in the package and do not need to be ordered separately).
Office furniture – office cabinets, often called document cabinets, personal belongings cabinets, are suitable for large and small offices, cozy home offices. Open, partly closed and closed cabinets can be easily integrated into different office interiors and styles. Their construction makes office cabinets robust and stable.
When creating workspaces, Kėdžių centras recommends fixed-height desks with A- and U-frames and the electrically operated height-adjustable 'Sit-Stand' desks. Those allow to combine sitting with standing, keeping you more active and healthier. For more office furniture, document cabinets, wardrobes, one- and two-sided desk cabinets to fit desks, acoustic screens, drawer units, see the UNIKA furniture collection CATALOGUE.
Closed document cabinet 5H | UNIKA is the right choice for creating ergonomic home and office working environment!
Document cabinets are ideal for large and small offices or home offices. With Scandinavian, minimalist design, UNIKA A office furniture can be easily integrated into different interiors and styles. Office cabinet meets individual office needs and can be adapted to different working characteristics.
Closed cabinets are equipped with feet to level on uneven floors. Adjustable height of feet – ±10 mm. Feet adjustment prevents the cabinet from wobbling when it is placed on an uneven surface. Partly closed document cabinet was designed to look light, with great attention to detail and functionality. This is essential for creative work in traditional and modern offices, and is perfect for Office Furniture UNIKA A in public and educational spaces.
This cabinet is made of laminated chipboard (MFC). This material is obtained by coating the wood chips on both sides with laminate and pressing at high temperatures. It is the most popular furniture board on the market and it achieves the highest quality/price ratio. Thanks to the properties of the laminate, the MFC panel becomes resistant to moisture, scratches, high temperatures and is easy to clean.
Great choice for office and home work environments
To find out more about office furniture and cahirs, we encourage you to visit Kėdžių Centras showroom or contact us by e-mail or phone.
You can follow our news on the Facebook and Instagram.