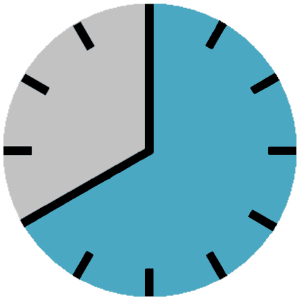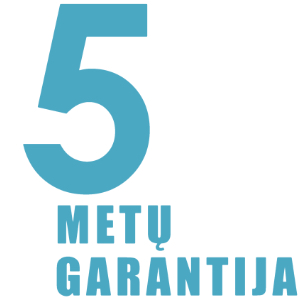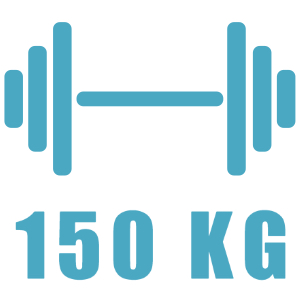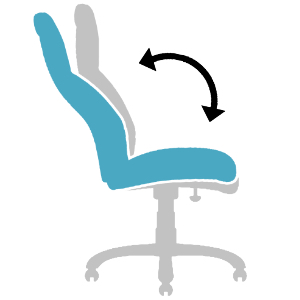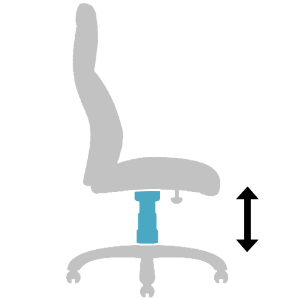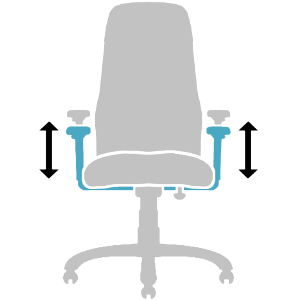 ARMREST HEIGHT ADJUSTMENT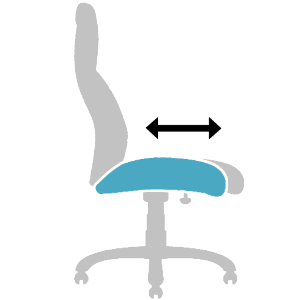 SEAT DEPTH AND ANGLE ADJUSTMENT
Office chair BIG STAR 10 with reinforced chair mechanism. Office chairs, office furniture online.
Classic office chair for people with a body weight of up to 150 kg!
Our standard office chairs have a load capacity of up to 110 kg. When there is a need for a chair with a higher load, we offer the German-made office chair BIG STAR 10.
Reinforced pneumatic height adjustment mechanism will raise and lower the chair seat to the required seating height. Larger and taller people often find that seat depths are usually insufficient for them, so the seat depth adjustment function will allow you to select the correct seat depth. The chair's comfortable, extra-thick seat has a strongly sloping seat front, which prevents pressure on the legs in the knee area and maintains good blood circulation in the limbs. The chair is particularly comfortable with a built-in seat inclination adjustment function. A lever at the bottom of the seat allows you to choose horizontal sitting or to change the angle of the seat to a forward inclination. This function is recommended for people who prefer to sit with their knees lowered and who complain of leg numbness.
The chair comes with a 60-month warranty!
BIG STAR 10 office chair has a synchronous chair control mechanism that allows you to select and lock the desired tilt angle between the backrest and the seat. One of the main advantages of the synchronous mechanism is that the seat and backrest are not connected. When the backrest moves, the seat moves in the same direction in a certain ratio, which does not put strain on the back muscles. The strength/stiffness of the recliner can be adjusted according to the weight of the user. Height-adjustable polyurethane armrests provide excellent support for arms. The sturdy reinforced chrome base ensures stability and firmness during long periods of use.
Suitable for 8 hours of sitting!
The chair is equipped with castors with a brake, which is useful when sitting on the chair is important for its stability. When you sit down, the brake disengages from the weight of your body and the castors roll normally fine. Castors are designed for soft flooring/carpet.  If you will be using this chair on hard flooring (wood, laminate, etc.), please make sure that the floor is protected. Kėdžių centras recommends to choose castors for hard flooring (65 mm diameter, 11 mm axle) and a plastic mat under the chair. If you wish to purchase this office chair in a different fabric color, please contact Kėdžių centras.
The chair is sold assembled!
German office chair manufacturer recommends this chair for people up to 192 cm tall and 150 kg. The chair meets all safety requirements and the LGA Tested Quality and GS labels guarantee the highest quality and safety. So you will always be satisfied with this chair!
You can follow our news on the Facebook ir Instagram accounts.