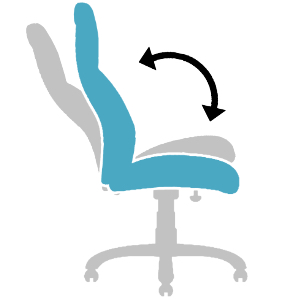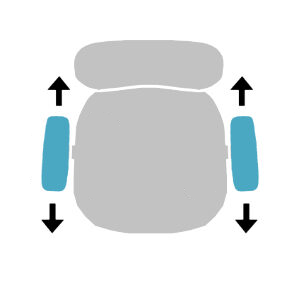 DIRECTION OF THE FEET ADJUSTMENT (BACK AND FRONTS)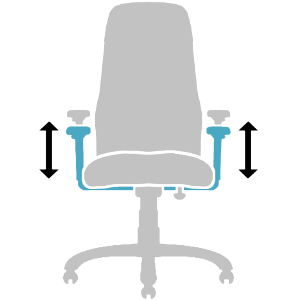 ARMREST HEIGHT ADJUSTMENT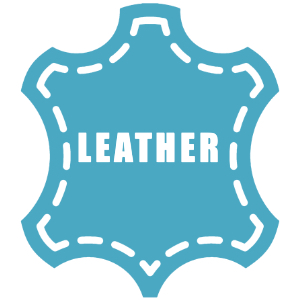 NATURAL LEATHER (FRONT SIDE)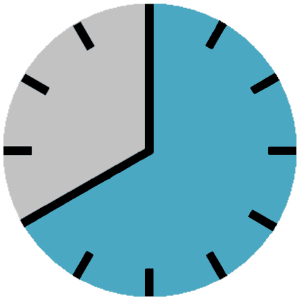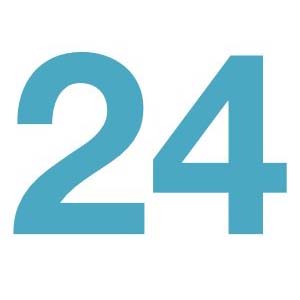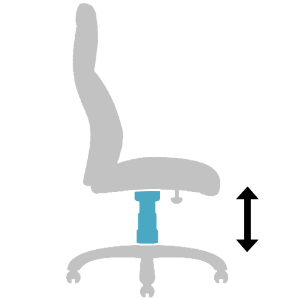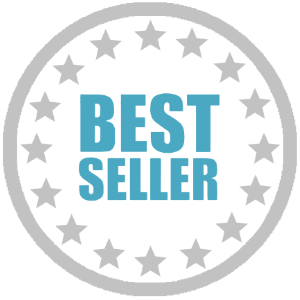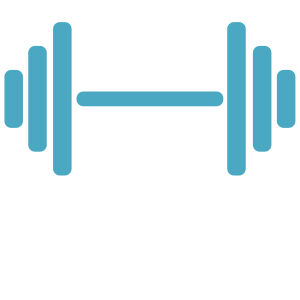 Synchronous mechanism
One of the main advantages of the mechanism is that the seat and backrest are not connected. When the backrest moves, the seat moves in the same direction in a certain ratio (usually 2:1 or 3:1). This gives a more pleasant sitting sensation and reduces the load on the back muscles. The chair's synchronous control mechanism allows to lock the tilt angle to the desired sitting position.
As the chair swings freely, the synchronous mechanism actively maintains an optimal and ergonomic seating angle. The firmness of the chair's oscillation can be adjusted individually according to the weight of the sitter. Executive chair CHESTER with pneumatic lift easily raises or lowers to the desired sitting
height. The Manager chair CHESTER with synchronous mechanism is recommended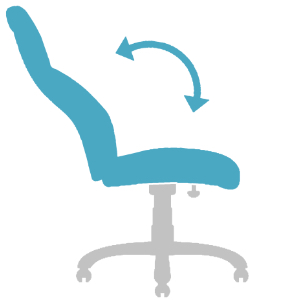 3D armrests with width adjustment
The armrests of this chair provide support for the arms. This reduces tension on the arms, shoulders, neck and hand muscles. This is particularly important when sitting for long periods of time. When work is finished, the armrests can be used as a support when standing up, thus reducing the strain on the pelvic muscles.
The armrests can be raised, lowered and their width adjusted to the position you want with the push of a button. If the armrests are locked too high or too low, they may interfere with your body movements and cause discomfort.
It is recommended to choose an armrest position that allows the arms to be bent at about 90° while sitting at the desk, with the shoulder blades naturally relaxed and in a straight horizontal line. It is important to ensure that when sitting in a chair, the legs of the person should be at a straight 90° angle to the floor. CHESTER is an excellent ergonomic solution. If you have any questions about how to adjust your ergonomic chair, please read the advice from our consultants.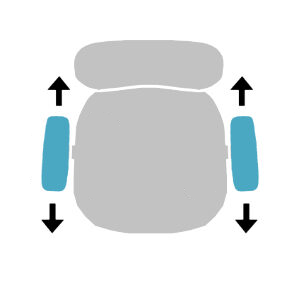 DIRECTION OF THE FEET ADJUSTMENT (BACK AND FRONTS)
Chair covered in natural leather
This chair is covered in natural leather. The natural leather gives the chair a luxurious look and is perfect around classic-style or executive furniture. The softness of natural leather gives a pleasant seating experience.
Natural leather is available in several colours, so you can easily match the chair to the surrounding furniture. Leather is an extremely durable and long-lasting material, resistant to scratches, tears or abrasion, making it a great investment if the chair will be used a lot and for a long time.
It is worth noting that sitting in chairs with leather or eco leather surfaces may cause the occupant to perspire. Before purchasing this office chair, it should be assessed whether the work area will be cooled in summer.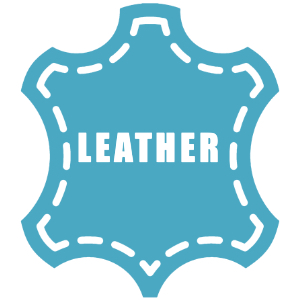 NATURAL LEATHER (FRONT SIDE)
Classically shaped backrest
Executive desk chair CHESTER has a classically shaped backrest. This type of backrest provides comfortable back support for people of all heights and body shapes. For some customers ergonomically shaped backrests are not comfortable and sometimes cause discomfort. Classically shaped backrests are more likely to make it easier to find a comfortable sitting position. It is worth noting that the shape of the backrest is a very personal choice. If more than one person will be using this CHESTER chair, or if you are not sure which back shape would suit you best, we recommend that you try it out live in our showroom.
11 mm castors (for soft floors)
Ergonomic executive chair CHESTER is with castors for soft flooring. Wheel axle 11 mm. The castors are made of thermoplastic elastomer, sometimes called thermoplastic rubber, which is a physical mixture of polymers consisting of materials with both thermoplastic and elastomeric properties. These wheels are softer and do not scratch hard flooring.
We recommend purchasing a plastic mat under the chair to protect the more sensitive floor covering. If a stable, fixed seating position is desired, we recommend chair feet instead of castors. When choosing chair castors, it is very important to pay attention to the type of use and the floor covering, if you are not sure we recommend you contact our consultants or visit our showroom.
Industry leader – NowyStyl
The CHESTER itself was manufactured by NowyStyl, one of the world's largest office furniture manufacturers. The company is known for its innovative and modern chair design and has been awarded numerous RedDot, German Design Award and Inowards awards. It is also one of the market leaders in the field of eco-friendliness of products and processes, with more than 7 eco-certifications. We are proud to be an authorised NowyStyl supplier.
Height-adjustable table
Our specialists recommends taking breaks during work based on medical research. Taking a 15-minute break every 45 minutes to move around. Prolonged sitting in one fixed position increases the likelihood of chronic pain and cardiovascular disease. We recommend combining seated work with standing work, together at a height-adjustable table! Learn more
Wide choice of colors and options
A wide range of materials and colours to suit even the most demanding customers! In addition, CHESTER can be ordered with a different colour or texture of material, please contact our specialists
Based on our many years of experience, we select and stock the most popular configurations and colours, but we understand that from time to time our customers need a chair with a distinctive design to match other interior elements. CHESTER can be ordered with a different color or texture material. Professional certified specialists will help you choose from a wide range of materials, colours and functions.