New UNIKA series office furniture – height-adjustable office sit-stand desks
Rectangular lifting office desk;
25 mm MFC table top, 2.0 mm ABS edge;
Height-adjustable desk legs colors: white, black;
Table top colors: white, light oak;
Height range from 710 mm to 1175 mm, maximum load capacity 100 kg;
Height adjustment mechanism is fast (~30 mm/s) and quiet (up to 55 dB);
Dual motor system;
Controller without memory function;
Obstacle detection system;
Feet with levelers (±10 mm) for leveling on uneven floors;
The workstation is suitable for several people of different heights;
Cable covers upon request (80 × 80 mm) in white, metallic or black color;
Desk made in Lithuania;
Guarantee 12 months.
Height-adjustable desk is delivered unassembled and is to be assembled.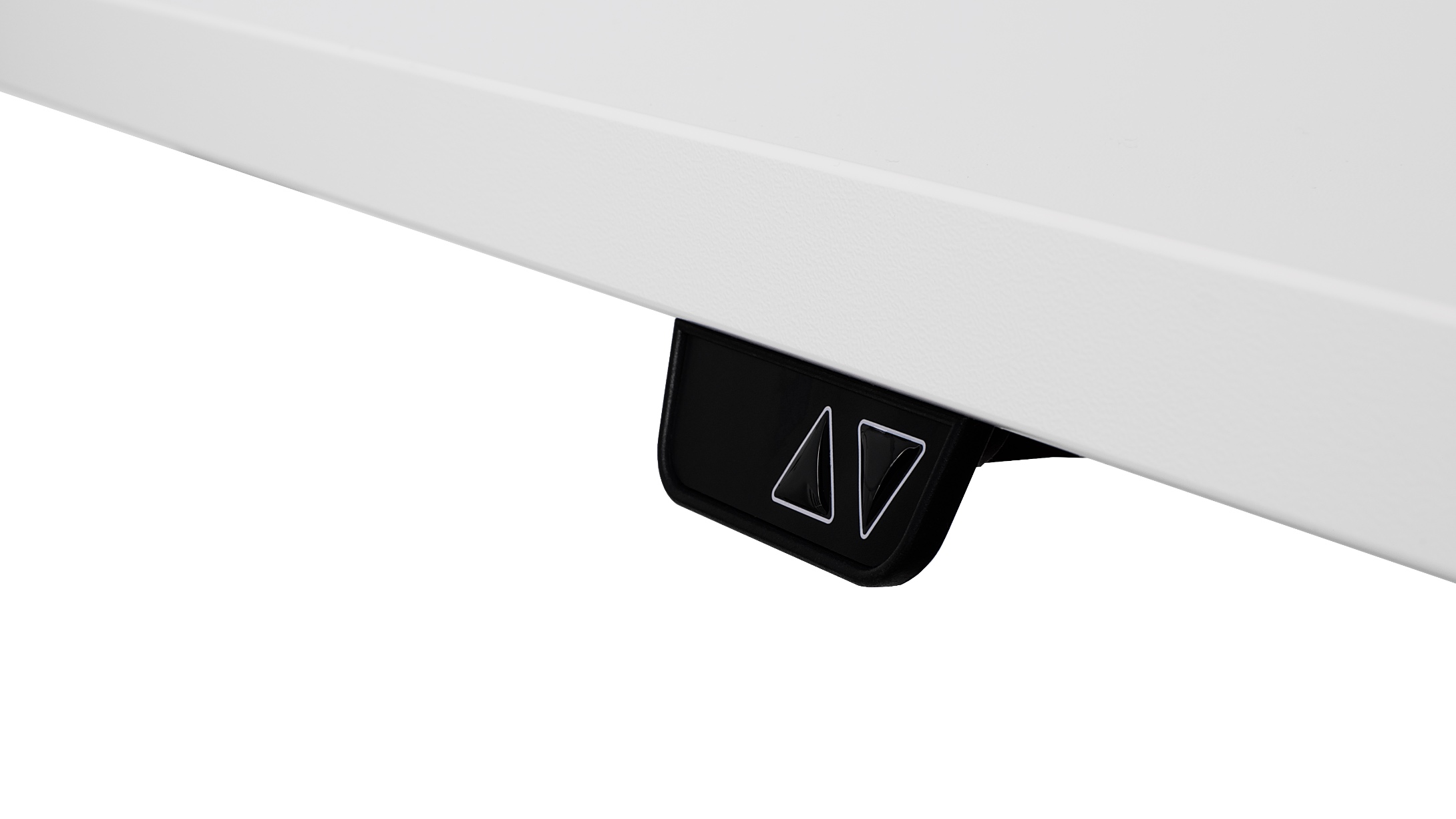 Human body is supposed to be in constant motion, avoiding passivity, so this height-adjustable desk UNIKA ERGO | 70 x 120 is a great alternative for those who want to make a long day of sitting more mobile. Studies have shown that people often change their sitting position while working or studying, therefore because we spend most of our time while sitting behing a table, taking regular breaks and moving around is essential for maintaining well-being. An adjustable heights desk reduces fatigue, boosts creativity and increases productivity.
According to physicians, a person should spend 50% of the time at work sitting, 25% standing and the remaining 25% moving around.
T-shaped legs of Height-adjustable table 70 cm x 120 cm are electrically adjusted and allow adapting the desk to your individual needs, both while sitting and standing. Medical professionals advise that the height of a lifting desk should be adapted to the individual's height, body shape and the tools or appliances used. The elegant, slim-legged, height-adjustable SIT-STAND desk provides more legroom when sitting.
With just one press of the "up" and "down" buttons, you will quickly find the most comfortable adjustable-height desk 70 x 120 position for you. Combining the SIT-STAND desk with a great ergonomic chair makes sitting work significantly more active and healthier, and your employees more invigorated and satisfied. The less fatigue – the more productive the work and the better the well-being!
Thanks to the integrated desk height adjustment mechanism and the great design, height-adjustable desk UNIKA ERGO | 70 cm x 120 cm opens up new possibilities in the office and at home!
Height-adjustable table 70 cm x 120 cm is ideal for large and small offices or home offices. With Scandinavian, minimalist design, the UNIKA ERGO lifting desks can be easily integrated into different interiors and styles. They are also suitable for children or young people working at home as desks or office tables. Adjustable-height table 70 x 120 can meet a person's individual needs and can be adapted to different working styles. UNIKA ERGO adjustable desk has a metal frame that ensures long-lasting stability and durability. Metal structure of the office desk is powder-coated. UNIKA ERGO lifting desks are more durable and longer-lasting than the alternative options.
Adjustable-height desk 70 x 120 is equipped with levelers for leveling the unevenness of the floor. Adjustable height of feet is ±10 mm. Thanks to the adjustment of feet, it is possible to prevent the Adjustable-height table 70 x 120 from wobbling when placed on uneven surfaces.
With the Height-adjustable desk UNIKA ERGO | 70 cm x 120 cm we also offer:
We recommend combining SIT-STAND height-adjustable desk with an ergonomic or active seating office chair.
To find out more about office desks, we encourage you to visit Kėdžių Centras showroom or contact us by e-mail or phone.
You can follow our news on the Facebook and Instagram.